In 1969, Daikin developed the first multi room air conditioning system with a single outdoor unit in Japan. With the constant progress of Daikin's technology since then, it has built an enviable reputation over 35 years.
Daikin's

using the new HFC "R410A" with DC inverter power control can combine a single outdoor unit with up to four indoor indoor units. Industry top-class energy savings and powerful operation are highly valued.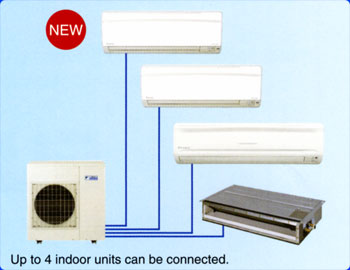 Outstanding features of Daikin's SUPER MULTI NX
Top-class energy savings
offers top-class energy savings, achieving the industry-leading COP of 3.35 for cooling operation – due to Daikin's key technological advances, such as the DC inverter and swing compressor. All outdoor units have earned the Singapore 4-tick energy label.
Top-class quietness
achieves the top-class quiet operation of 22dB for indoor units – quiet enough to provide you with personal comfort – and 43 dB for outdoor units – to provide your neighbors with peace.
Top-class wide range
offers a top-class wide range of indoor units with capacities in the 2.5 to 7.1 kW class – including wall-mounted and duct-connected types. You can choose the units that best suit your interior decor. Outdoor units are powerful enough that a single unit can drive up to 4 indoor units. A top-class wide range is offered with capacities in the 3.8 to 8.0 kW class.
New well-designed indoor units
The simple and sophisticated design of the 2.5 to 3.5 kW class wall-mounted type won the prestigious Good Design Award in Japan.
Connected at up to 200% of the outdoor unit capacity class
Indoor units can be connected at up to 200% of the outdoor unit capacity class by switching operating units depending on your daily activities.
Top-class high energy savings that achieve
SUPER MULTI NX offers the industry's leading COP. This outstanding performance is possible due to Daikin's key technological advances such as the relunctance DC motor. This motor is so energy-saving that is greatly improves the efficiency of rated capacity operation, plus, it even increases the efficiency of small load operation (case 1 and case 2).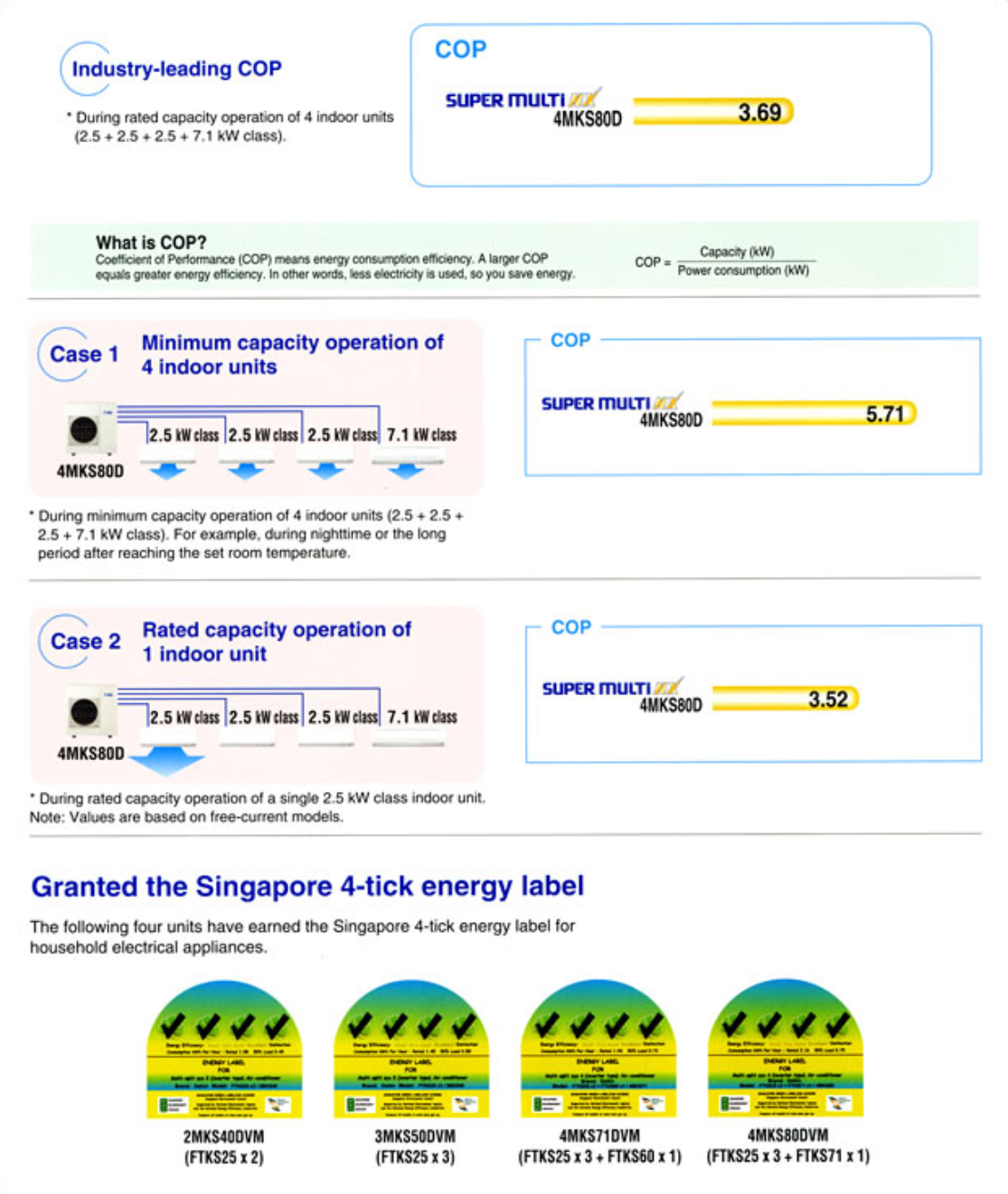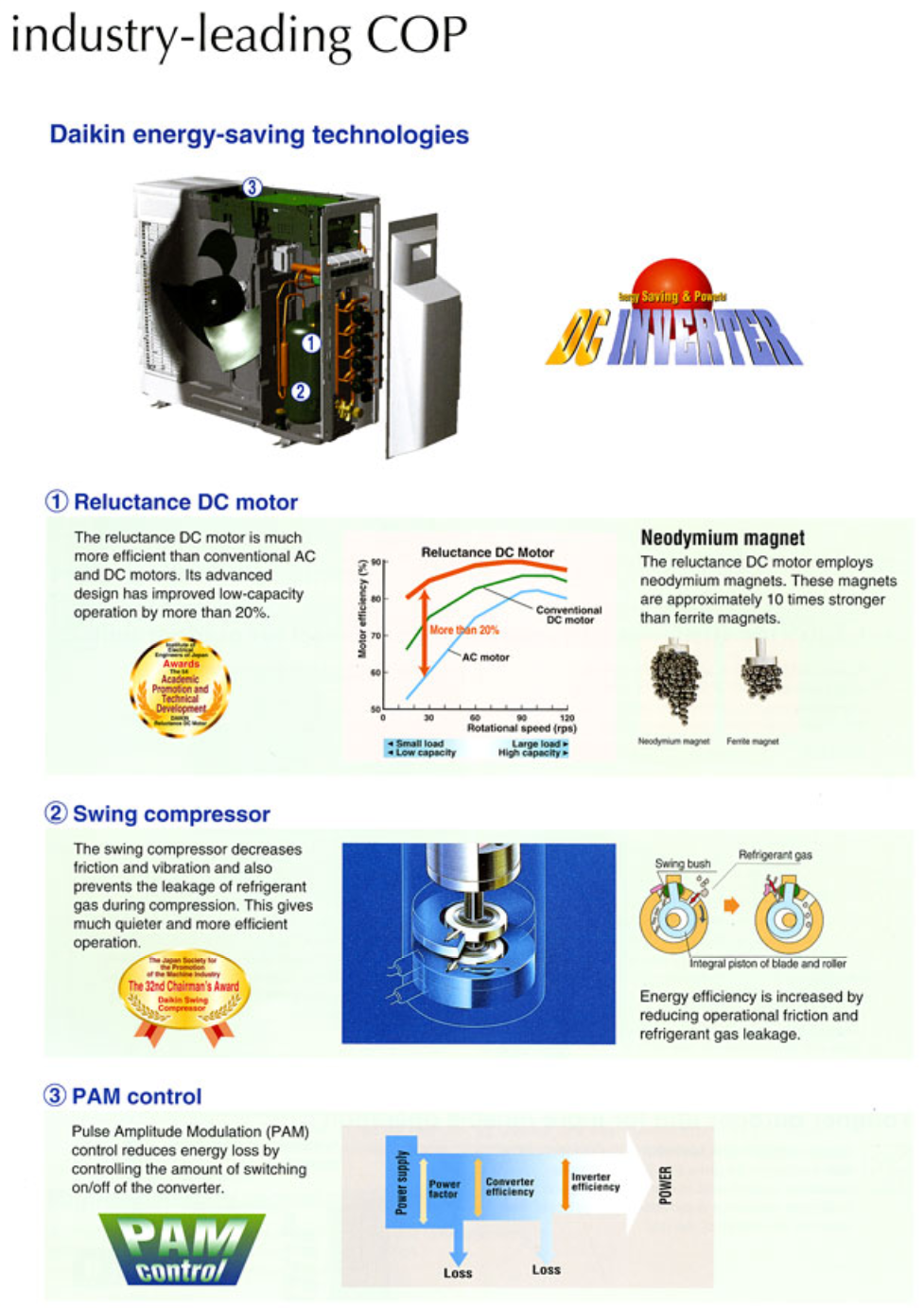 For residential and commercial use
Engineered for Flexibility
First launched in Japan in 1982, the Daikin VRV system has been embraced by world markets for over 30 years. Now, Daikin proudly introduces the new VRV IV S series – the ideal air conditioning system for homes, shops and offices.
VRV indoor units combined with residential indoor units, all in one system.

Super Multi Plus D Series
An 11.2 to 15.5 kW Multi-Split System
Daikin's new Super Multi Plus D series is now connectable to up to 8 indoor units and offers you a richer choice of indoor units to coordinate with each room decor. Advanced technology from Daikin has improved COP and reduced sound levels to suit today's modern living environment.

Features
Energy saving
Compact
Comfort
Durability
More economy or comfort in special situations
Convenient Functions
Reuse of existing piping
Design flexibility
Product Lineup
Ceiling Mounted Cassette Type
Duct Connection Middle and High Static Pressure Type
Ceiling Suspended Type
Wall Mounted Type
Floor Standing Type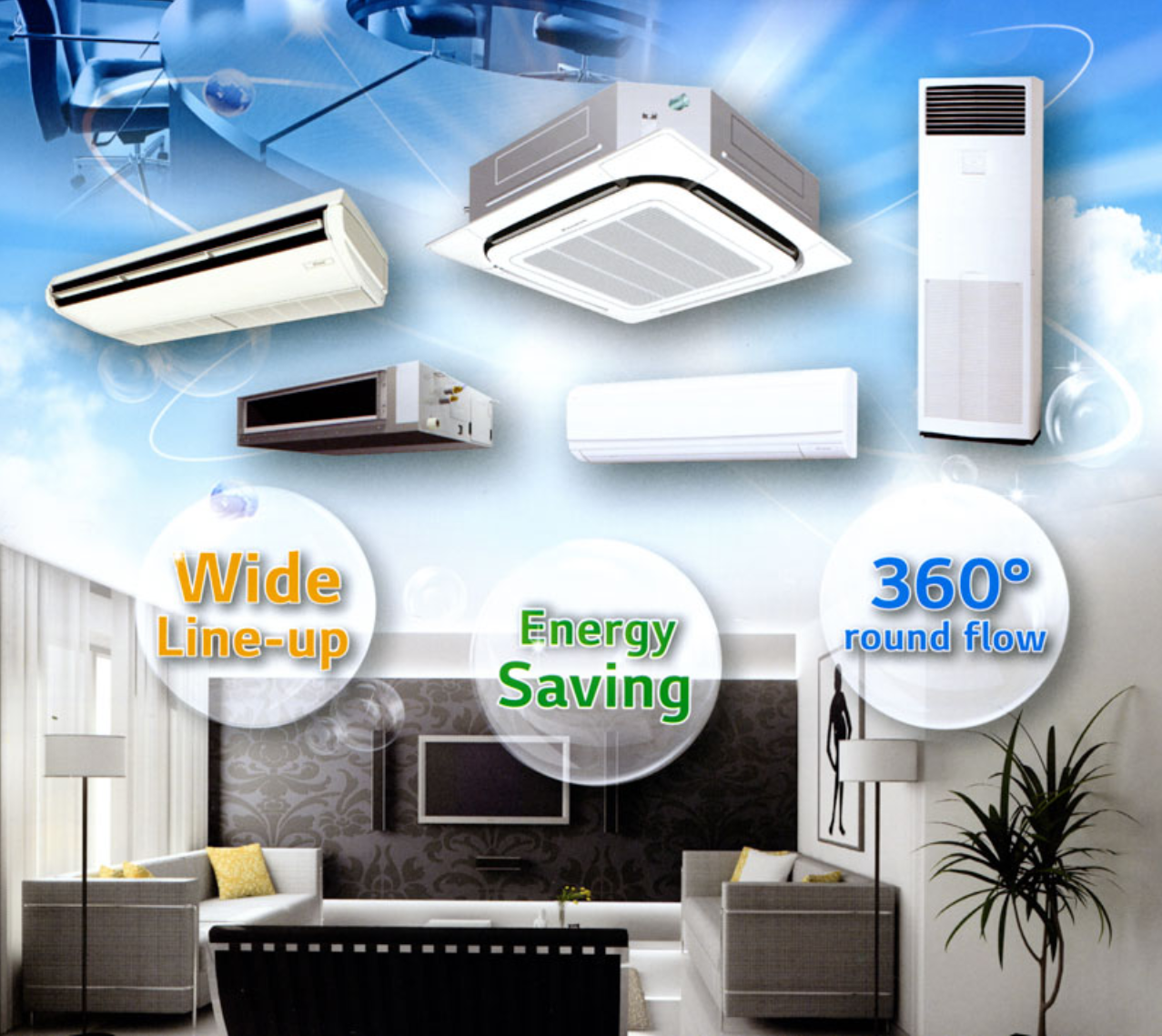 In 1969, Daikin developed the first multi room air conditioning system in Japan that needed just one outdoor unit. Over the ensuring 40 years, Daikin has built an enviable repulation with the constant progress of its technology. Super Multi NX requires only a single outdoor unit to maintain pleasant comfort in up to five rooms. Where outdoor unit installation is limited, it is the ideal choice. Air conditioner settings for each room can be controlled individually to suit the preference of each person. While optimising personal comfort, Super Multi NX uses DC inverter technology to reduce energy waste.
Key concepts for Super Multi NX
Enjoy the comfort and luxury of your dreams.
Intelligent technologies:
The DC motor, swing compressor and other advanced technologies make for energy-efficient operation that achieves high COPs.
Ideal environment:
The quiet operation mode helps create a more pleasant living environment. A connectable capacity of 200% allows each outdoor unit to support a high number of indoor units.
Interior & exterior flexibility:
The wide range of indoor unit options provides ample choice. A single compact outdoor unit reduces installation space requirements, while long maximum piping lengths provide flexibility for connections.
Individual control:
The individual indoor units in different rooms can be controlled independently. The priority-room setting function lets you specify a room to receive preference in air conditioning operation.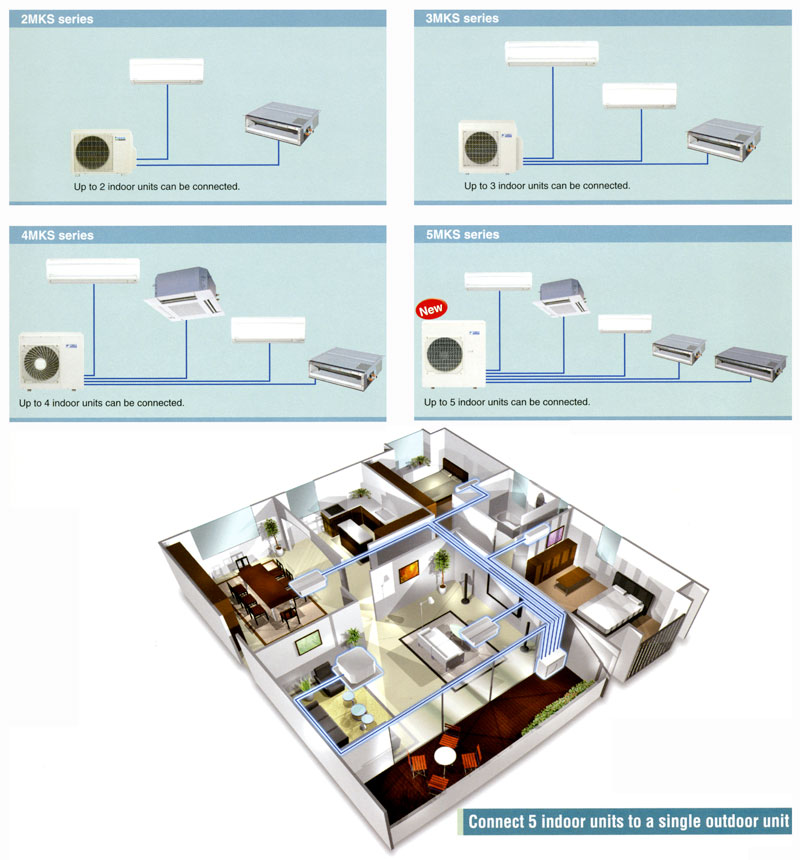 Air Cooled and Water Cooled Chillers
Air-Cooled Single-Screw Chiller
Overview
The air-cooled chiller is a central conditioning unit, using air as cooling heat source and water as cooling supply medium, which can meet the air conditioning requirement of buildings around the year. The unit can be mounted on roofs or outside, no need for equipment room, cooling tower or cooling water pipe system. Daikin has applied single-screw compressor technology in air-cooled units, integrated advanced control technology. It can be applied in different buildings, such as department stores, hospitals, restaurants, factories, and office buildings.
Features
Resistance to Corrosion and Rust with Strong Applicability
Low Noise and Low Vibfration
Stepless Modulation High-efficiency and Energy Saving
Easy to Install and Simple to Maintain
Control and Reliable Operation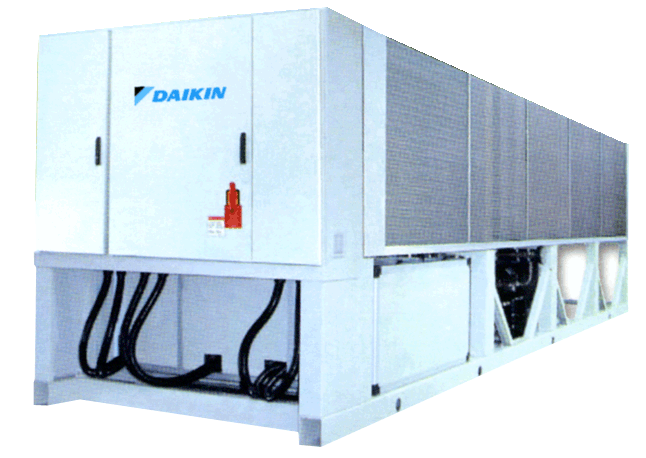 Water Chillers
Daikin chilling units employ advanced technology that provides highly accurate temperature control to within ±0.5°C. They are widely used in applications ranging from air conditioning to industrial equipment. Recent changes have introduced new models with substantially increased capacities of up to 480 HP and various model series, including advanced inverter type units, year-round cooling type units, and units with brine-resistant specifications. By providing a full lineup of heat source series choices, Daikin offers an even more flexible array of solutions for a wide range of heat source applications.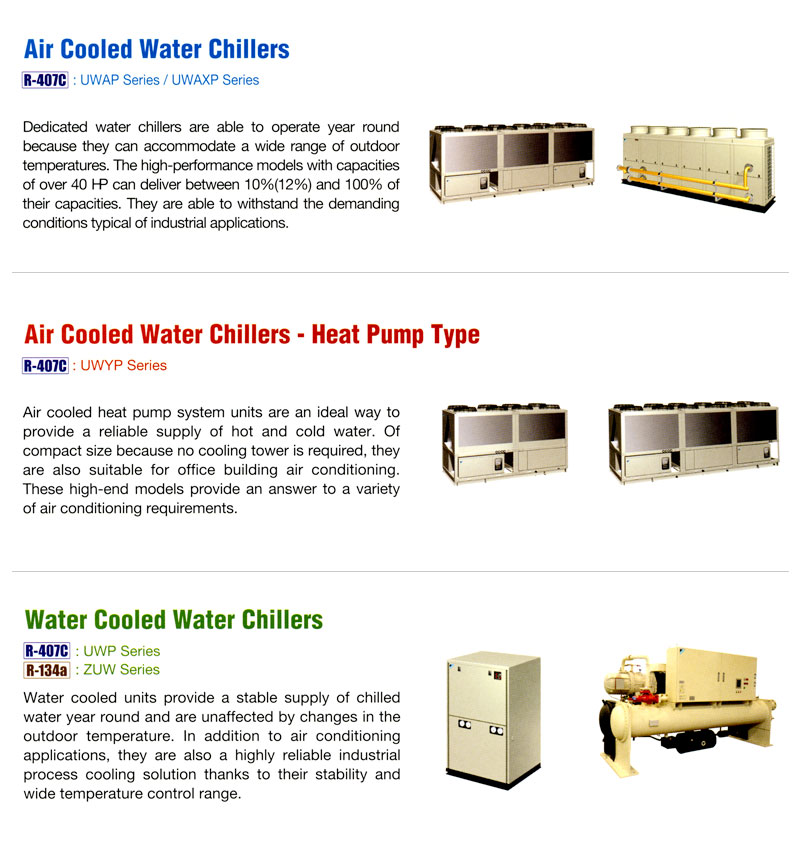 Electrical & Air Conditioning for Residential, Industrial & Commercial
Satisfaction Guaranteed